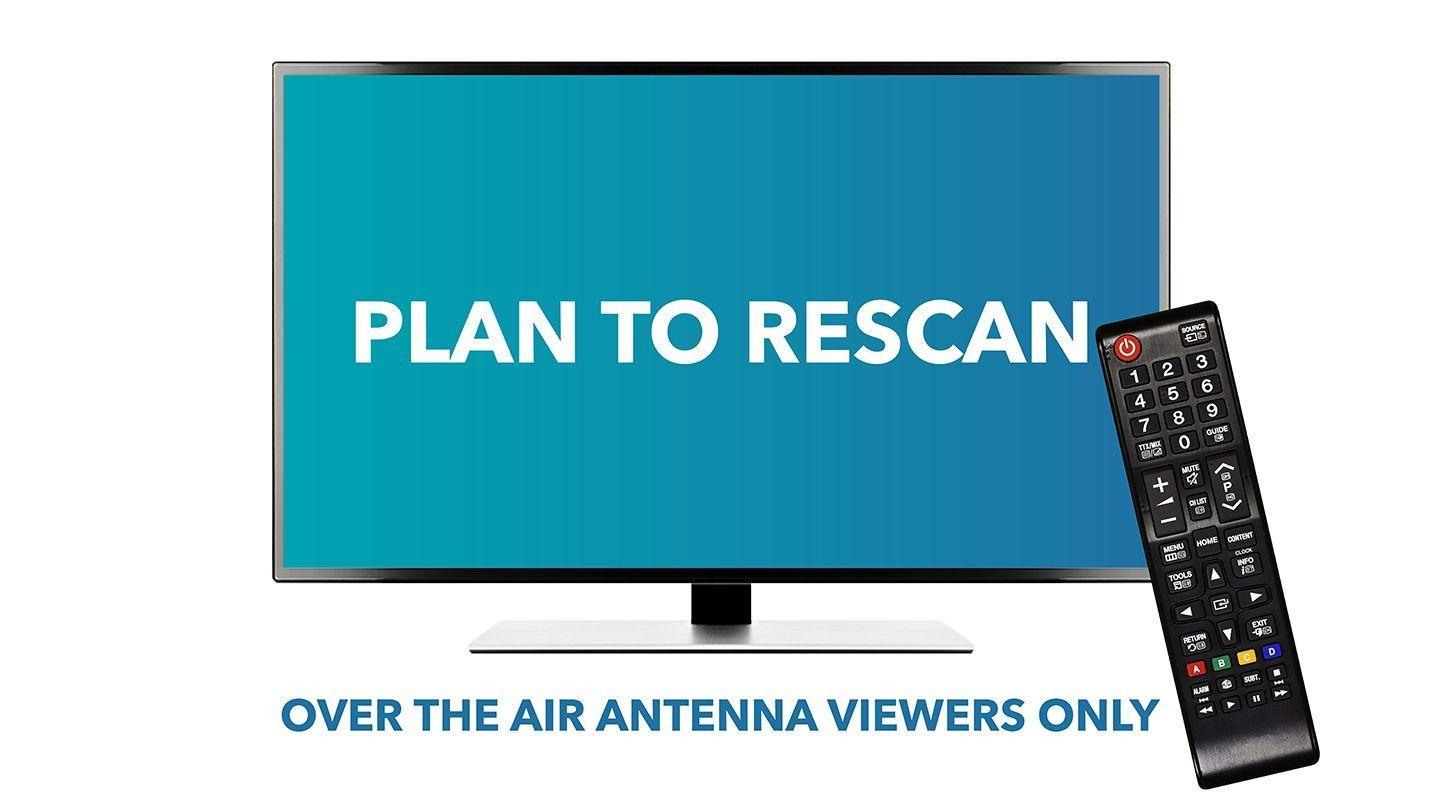 How To Rescan Your Antenna TV
Select Scan or Autotune from your TV or converter box control menu to start the scanning process.

Your TV will do the rest. This process usually takes a few minutes to complete.
If you're watching any UNC-TV Public Media North Carolina channel using an antenna , there is an important day coming up that you need to know about. This means you'll need to grab your remote and rescan your channels to keep watching many of your favorite programs such as Antiques Roadshow, My Home, NC, NOVA, Masterpiece, North Carolina Weekend and more.
Raleigh Translator
Work is scheduled for the Raleigh translator, Tuesday, June 2, 2020. The translator is expected to be off the air for a few hours beginning that morning. When the translator returns to the air, hopefully by early afternoon, a channel scan will be required in order for receivers to once again pick up the site.
UPDATE
WUNC Chapel Hill/ Raleigh/Durham
Channel 4

Beginning next Monday, June 8, 2020 a tower crew will be arriving at the WUNC-TV Chapel Hill site to begin the task of replacing the main antenna. A major milestone is expected to occur on June 17, 2020 with the installation of the new main antenna using a helicopter. The site should be operating on its new main antenna system by the end of the month.
WUND Edenton/Columbia
Channel 2


All antenna work is currently suspended due to the COVID-19 outbreak.
WUNE Linville
Channel 17


Complete.
WUNF Asheville
Channel 33

Complete.
WUNG Charlotte/Concord
Channel 58

Complete.
WUNJ Wilmington
Channel 39


All antenna work is currently suspended due to the COVID-19 outbreak.
WUNK Greenville
Channel 25


All antenna work is currently suspended due to the COVID-19 outbreak.
WUNL Winston-Salem
Channel 26


All antenna work is currently suspended due to the COVID-19 outbreak.
UPDATE
WUNM Jacksonville
Channel 19

Beginning later this week expect WUNM-TV, Jacksonville to begin operating at reduced power for parts of the day. The reduced power operations will occur at a minimum during the work day. We won't know the full extent of the durations of the reduced power operations until the work crew is fully mobilized to the site later this week. The reduced power operations are expected to last through most of the month of June.
WUNP Roanoke Rapids
Channel 36


All antenna work is currently suspended due to the COVID-19 outbreak.
UPDATE
WUNU Lumberton
Channel 31

WUNU, Lumberton, NC began main facilities operations this past Friday afternoon, May 29, 2020.
WUNU Lumberton
The WUNU main antenna system work is a bit behind schedule due to the windy weather last week. They will hopefully have the site at full power by the end of the month.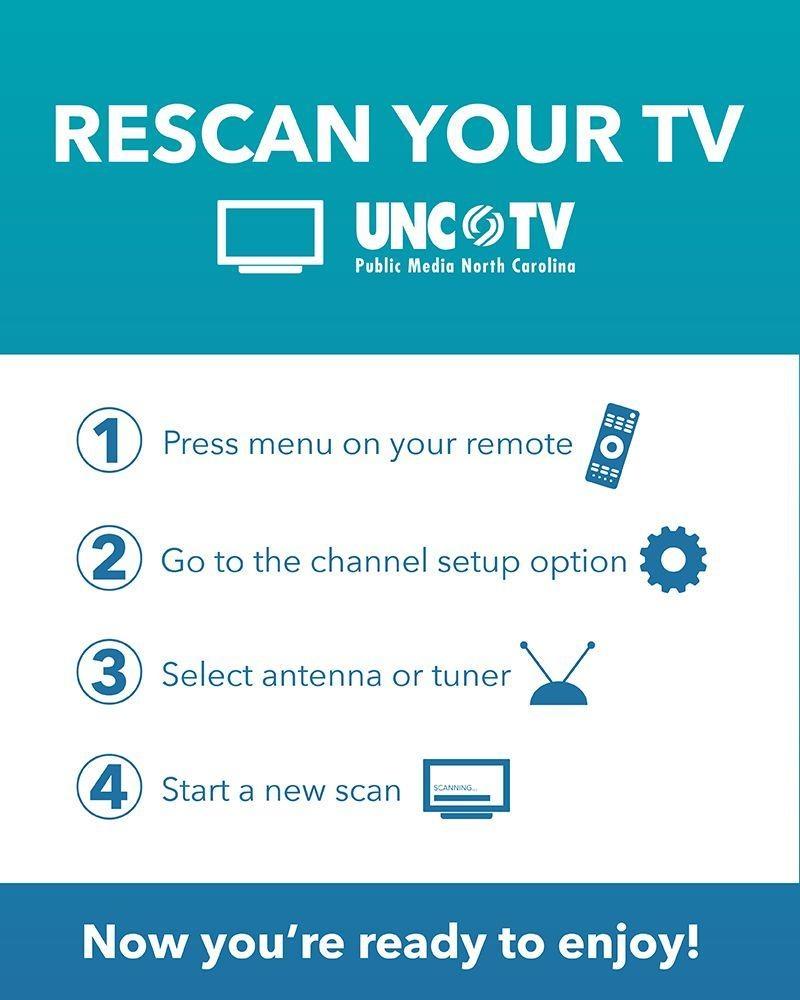 TV & Antenna Manufacturer Resources for Rescan Info
Because specific rescan procedures may vary by manufacturer, please consult the links below for the online support pages of many popular brands.
Frequently Asked Questions (FAQ)
Viewers who watch TV with an antenna, either indoor or atop your roof. If you subscribe to a cable or satellite service, you don't need to take any action.
The television channel rescan is the result of a national channel alignment. Because of demand for faster and higher capacity mobile broadband services, the Federal Communications Commission expanded wireless services through a nationwide spectrum auction. Several television stations participated in this auction; the UNC-TV network did not. Nevertheless, the freed up bandwidth for cellular companies required an alignment for the new channel configuration. As part of this national channel alignment, if you watch free over-the-air TV using an antenna, you'll need to need to rescan your televisions to continue receiving your favorite channels.
Wednesday, September 11, at 3 AM. In order to continue receiving our stations, you will need to rescan after that time.
Nationwide, about 1,000 stations are affected by this change, including UNC-TV and its four over-the-air channels—UNC-TV PBS & More, the North Carolina Channel, Rootle 24/7 PBS KIDS and the Explorer Channel.
About a decade ago, television broadcasting converted from an analog to a digital transmission system. This digital transition created additional capacity using the same amount of spectrum, so local television broadcasters could now multicast additional channels. That's why UNC-TV Public Media North Carolina's over-the-air viewers have enjoyed three new digital channels in addition to our flagship UNC-TV PBS & More channel: the North Carolina Channel, the Explorer Channel and the Rootle 24/7 PBS KIDS Channel.

Beyond providing you with more channels, another benefit of the digital transition is that unused space between the channels is able to be compressed, so more broadcasting fits into fewer frequencies. This and other unused spectrum are being used by wireless carriers and for other mobile broadband uses.

With the popularity of watching video on our phones surging in recent years, demand for mobile broadband has gone up exponentially, so Congress and the FCC decided to rearrange some of the television spectrum to free up airwaves. The FCC is more efficiently allocating this spectrum for new wireless mobile broadband uses, such as the new 5G technologies that are coming.
If you watch television over cable or satellite you don't have to rescan; your provider will have completed the process. However, if you do receive television over-the-air with an antenna, you will need to rescan your television channels. If you haven't rescanned when the frequencies change, then your favorite channels will seem to have disappeared. You need to retrain your TV by rescanning it—and that's a simple process. In fact, when you first set up your digital TV (or analog TV converter box), it had to be scanned to get your stations. This is the same process.

Just take your remote control and press the menu or setup button. Look for an option that says "antenna" or "channel," press it and it will display "auto tune" or "auto scan." Press that and your TV will search and find all available channels. This process should take about five minutes.

It's a good idea to scan your TV occasionally, as new channels may be available since your last scan. So, if you haven't rescanned your TV in a while, you may be pleasantly surprised at the channels now available to you. If you suddenly don't see a channel where it should be, the first thing you should do is to rescan your TV.
For more information, including information about how to rescan and reasons for the change, please visit fcc.gov/TVrescan. There's even a handy interactive digital TV map there which allows you to put in your home address to pull up all the stations that should be available to you with an antenna. Additionally, the National Association of Broadcasters has created an informative website at tvanswers.org.

Still have questions? The FCC offers a dedicated TV Transition Hotline, with live help from 8 AM to 1 AM (including weekends). Call 1-888-CALLFCC (1-888-225-5322), then press 6.
We are always happy to hear from you and to help you enjoy our services! Our Audience Services team will be glad to assist you weekdays, from 8 AM to 5 PM, at viewer@unctv.org or 1-888-292-7070. At other times, please email us or leave a message. Your message will reach the appropriate staff member and we will respond as soon as possible. Thanks and happy rescanning!