Together we can help North Carolina's communities reconnect to education, jobs, neighbors and opportunity.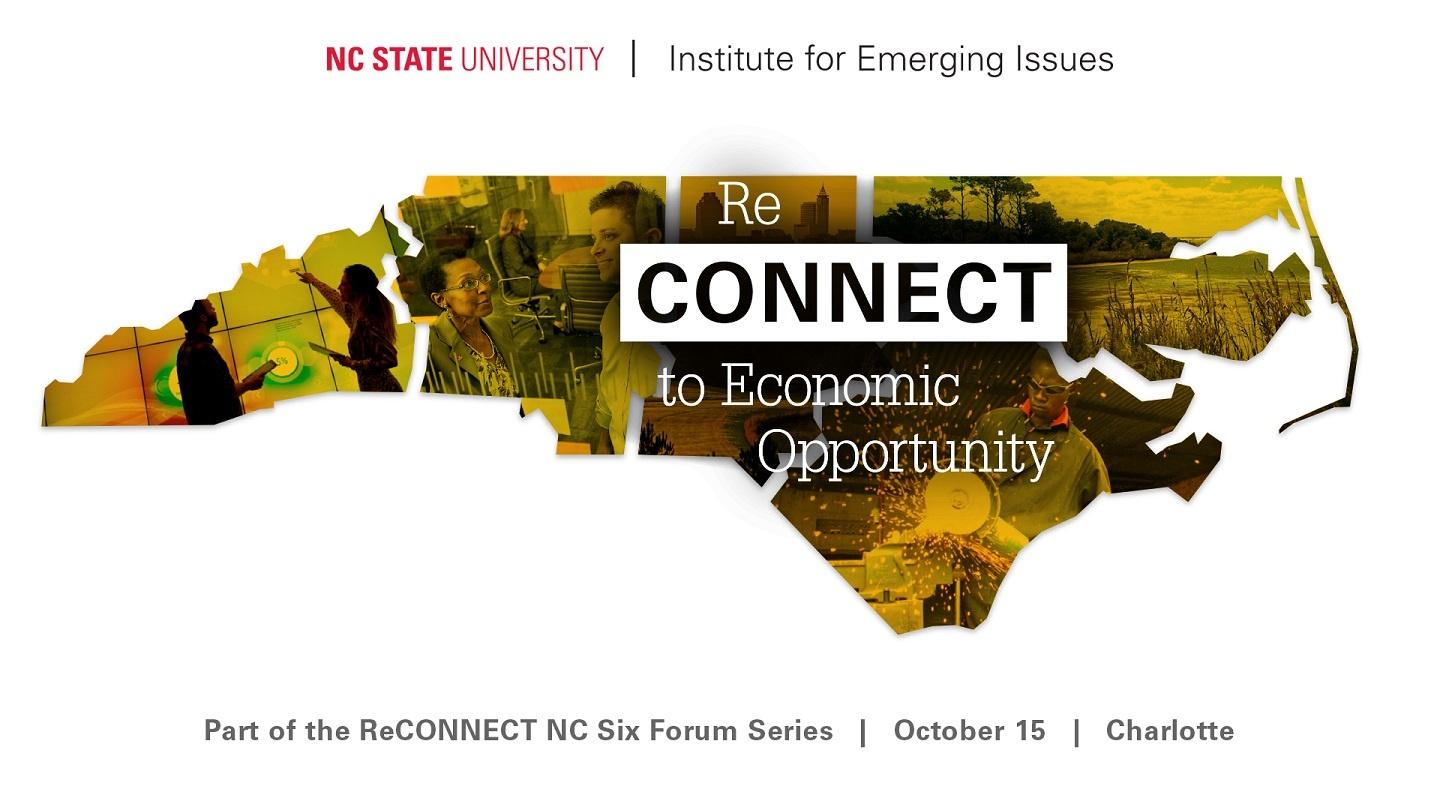 Watch for the Next ReCONNECT Forums
ReCONNECT to Technological Opportunity: Raleigh February 2020
ReCONNECT to Well-Being: Greenville October 2020
ReCONNECT for the Future: Raleigh February 2021
ReCONNECT to Economic Opportunity: Charlotte
Tuesday, October 15, 8:30 AM–5:30 PM
Omni Charlotte Hotel, 132 E. Trade Street, Charlotte

In this third of six ReCONNECT forums presented by NC State University's Institute for Emerging Issues, ReCONNECT to Economic Opportunity focuses on promoting one aspect of mobility: connecting people to higher-paying jobs.
Join with experts in this daylong forum to:
Examine ways to connect adult workers to information about sustainable-wage employment.

Identify accessible education opportunities.

Promote programs that remove non-academic barriers to, and provide support for, post-secondary education.
ReCONNECT Raleigh: Welcome & Overview
ReCONNECT Rural & Urban: Raleigh
Rural and urban communities are highly interconnected—by workforce, natural assets, supply chains and other elements. Finding ways to more effectively promote and leverage these interdependencies could lead to shared prosperity across the state.
Explore new ways to define, celebrate and leverage these interconnections to build a more prosperous North Carolina on this edition of the Institute for Emerging Issues ReCONNECT Rural & Urban: Raleigh.
Watch here.

The ReCONNECT County Snapshot tool is designed to inspire community conversations and collaborations about sustaining and improving community connections. In addition to dashboard metrics, Snapshot includes a visualization to help communities "see" their strengths and challenges in each ReCONNECT NC focus area.
Community Conversation Summary
To ensure that the content presented at the statewide forum reflects the needs, ideas, and interests of the host region, IEI staff convened a series of meetings in Western North Carolina (WNC) in August 2018 to better understand the current state of civic engagement in the region and the barriers and opportunities to working together to solve key challenges.
The report highlights an extraordinary opportunity: to strengthen our communities, lift our statewide economy, and improve the bottom lines of businesses of every size by improving "civic health." In authoring the report, the Institute for Emerging Issues (IEI) extends its tradition of helping North Carolinians identify consensus strategies for enhancing our future economic prosperity.